THE CITY OF LAFOLLETTE ADMINISTRATION
207 South Tennessee Avenue
LaFollette, TN 37766
Phone: (423) 562-4961
Fax: (423) 563-0703
The Administrative Office of the City performs various duties for the citizens, Mayor and City Council, and the other departments of the City. These responsibilities include the archiving of all ordinances, resolutions, and minutes of City Council meetings. The Administrative office operates under the direct supervision of the City Administrator, who is the chief executive officer of the City. The Administrative Office is comprised of three offices with distinct functions to help better the efficient operations of the City and to also better serve the needs of our citizens and community. The Administrative Office is comprised of the City Administrator's Office, the City Clerk's Office, and the Finance Department. For more details of the functions performed by these offices, you may visit their sites by following the links below.
The Administrative Office is located in the municipal building.
The municipal building is open from 7:30 AM until 5:00 PM, Monday-Friday.
The municipal building is closed on Saturdays and Sundays.
PLEASE CLICK THE LINK ABOVE TO SEE THE RULES AND REGULATIONS
ATTENTION TAX PAYERS
The City of LaFollette will be opening City Hall from 8:00 a.m. to 4:00 p.m. daily for Tax payments. Due to the Covid-19 virus, we will be requiring everyone to wear a mask when entering City Hall. The City of LaFollette would like to urge everyone that is able to mail in their tax payments or use the provided drop box. We will be available by phone or in person to assist with filling out the new Tax Relief Forms.
If you have any questions or if we can be of any assistance, please feel free to contact City Hall at (423) 562-4961.
ATTENTION
NOTICE OF EXECUTIVE SESSION MEETING
The City of LaFollette will be holding an Executive session meeting on Saturday, April 10, 2021, regarding pending litigation at 9:00 a.m. at the LaFollette Municipal Building at 207 South Tennessee Ave, LaFollette, TN 37766.
April is Fair Housing Month


Campbell County ATV Open Roads
Visit us and our friends on Facebook!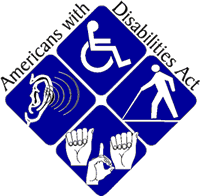 Click the picture above for information on disability services.